Osage Hills offers lessons 7 days a week year-round! Riders may start at any time. From beginner riders to advanced equestrians, everyone can benefit from and enjoy lessons at Osage Hills.
English and western lessons offered
School horses available; students may also haul in horses
Equipment provided for beginners
Adults and children encouraged!
Partial lease options available
For riders who are interested in competing, Osage Hills attends many local dressage shows, combined training events, and hunter paces. Many school horses are available for shows and several have won multiple year-end awards and championships!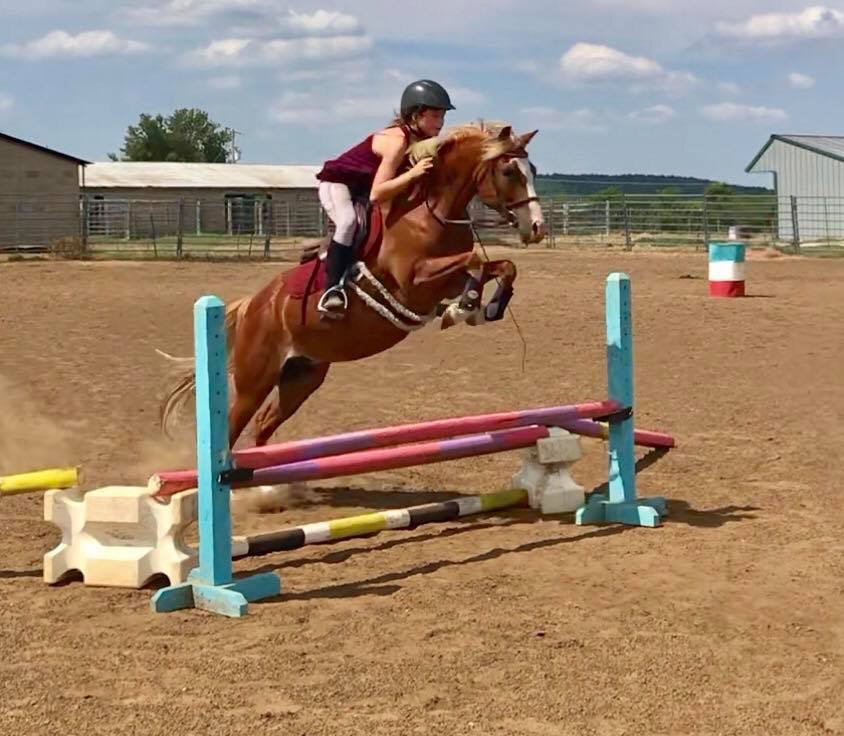 Lesson Fees & Policies
Private lesson (approximately 45 minutes)

Private lessons offer students a chance to receive individual attention, fine-tune techniques, and work toward specific goals.
Single lesson- $55
Package of 4 lessons- $200 ($20 savings!)

Semi-private/group lesson (approximately 1 hour)

Semi-private/group lessons facilitate independent riding, add a social component to barn time, and prepare students for show environments.
Single lesson- $45
Package of 4 semi-private lessons- $160 ($20 savings!)

Weekly lessons or training rides are required for all boarders.
Lessons and lesson packages are non-refundable and do not roll over.
If an instructor cancels a lesson, the lesson will be refunded or credited.
Competition Fees
Coaching

Schooling show- $35/day
Rated show- $50/day

Lesson horse usage fee

Schooling show- $40/day
Rated show- $50/day

Hauling fee- $.75/mile
Hay fee- $10/day
Grooming fees:

Braiding- $35 for multiple days, $40 for single day
Bathing- $25
Clipping/trimming- $25

Tack cleaning:

Saddle- $10
Bridle- $10
Boots- $10
Halter/girths- $5
Other miscellaneous items- $5/item
Competitors are expected to clean their tack before a show. Competitors are expected to arrive at the barn before the show to help with morning chores and load their tack and horse. Competitors are also required to return to the barn after the show to help unload horses and equipment. If two students are sharing a horse, they may decide to split pre and post-show chores between them (e.g. one student does pre-show chores, the other does post-show chores). Failure to abide by this policy will result in a $30 charge.
We're pleased to offer the Princess Package for $40/show! We will load your tack and your horse and meet you at the show grounds where you will take over your horse's care for the duration of the show.